Seven cities—Austin, Texas; Columbus, Ohio; Denver; Kansas City, Missouri; Pittsburgh; Portland, Oregon; and San Francisco—have been named finalists for the U.S. Department of Transportation's (DOT) Smart City Challenge.
DOT has pledged up to $40 million (subject to future appropriations) to one city to help it define what it means to be a "smart city" and "become the first U.S. city to fully integrate innovative technologies—self-driving cars, connected vehicles, and smart sensors—into their transportation network."
The finalists were announced by U.S. Transportation Secretary Anthony Foxx, joined by Barbara Bennett, president and chief operating officer of Paul G. Allen's Vulcan Inc., and Rick Clemmer, chief executive officer of NXP Semiconductors. Also present were mayors of five of the finalist cities—Steve Adler of Austin, Andrew Ginther of Columbus, Sly James of Kansas City, Bill Peduto of Pittsburgh, and Charlie Hales of Portland. The announcement was made at the C3 Connected Mobility Showcase being held at the South by Southwest conference (SXSW).
As part of the work of the Daniel Rose Center, ULI has worked with Secretary Foxx during his time as mayor of Charlotte, N.C., and current and former mayors of Denver, Portland, Pittsburgh, Kansas City, and Austin. Mayor Sly James of Kansas City also serves as a ULI Trustee.
In the second phase of the competition, the seven finalists will receive a $100,000 grant to further develop their proposals. Whereas the first phase called for a high-level overview, the winning city will be selected based on its ability to think big and provide a detailed roadmap on how it will integrate innovative technologies to create a prototype of the future of transportation. DOT will work with all the cities to connect them with existing partnerships and support their final proposal with technical assistance.
"The level of excitement and energy the Smart City Challenge has created around the country far exceeded our expectations," said Foxx. "After an overwhelming response—78 applications total—we chose to select seven finalists instead of five because of their outstanding potential to transform the future of urban transportation."
When the challenge was issued in December 2015, the DOT's launch partner, Vulcan, announced its intent to award up to $10 million to the winning city to support deployment of electric vehicles and other carbon emission–reduction strategies.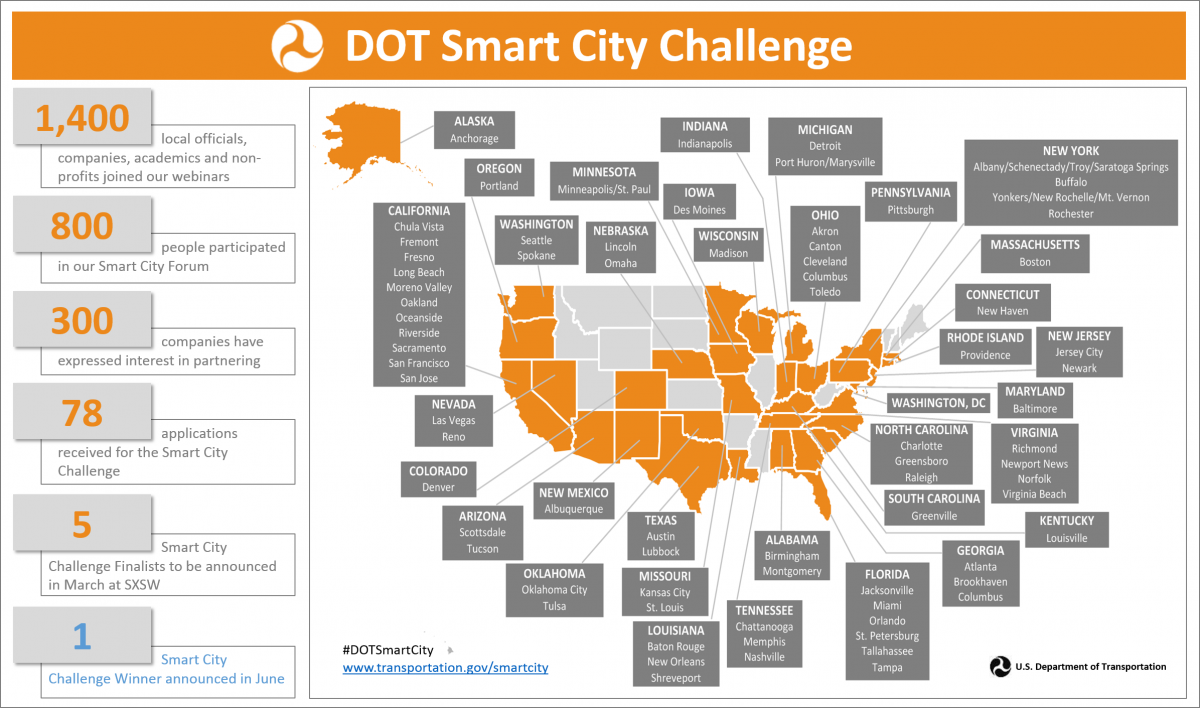 "The creativity and determination of the applicants to envision a greener future represents the best of American ingenuity," said Bennett. "As the Smart City Challenge's philanthropic partner, we hope to catalyze a transportation transformation across the country that will dramatically drive down emissions from this leading source of carbon pollution."
Foxx also announced a new Smart City Challenge partnership with Amazon Web Services (AWS), a secure cloud services platform, which will provide solution architecture and best-practices guidance to the finalists to help them leverage AWS services, as well as award $1 million of credits to the challenge winner for AWS cloud and professional services. AWS will also collaborate with DOT on efforts to engage the startup community and bring its ideas to the finalists.
DOT developed the Smart City Challenge as a response to the trends identified in its Beyond Traffic draft report. The report, issued last year, revealed that aging U.S. infrastructure is not equipped to deal with a dramatically growing population. It also identified a need to increase mobility options in developing megaregions—specifically medium-sized cities.
The winning city will be announced in June 2016. To view the list of cities that submitted applications for the Smart City Challenge or explore Smart City Challenge partnership opportunities, visit www.transportation.gov/smartcity.